OUR EXPERTISE
Vaastu Pty Ltd has got expertise in designing and getting permit approvals for boutique apartments, luxury houses, childcare centres, medical centres, old age homes, townhouse development, terrace home and mixed commercial developments. "Building Design is the thoughtful making of space". Keeping the same in mind, we aim at producing designs for our customers. We believe in eternity and every project is designed uniquely ensuring the requirements and demands of the clients. Building Design is a visual art and the buildings that we develop here at Vaastu Pty Ltd speak for themselves. We help our clients in designing and developing the following types of dwellings:
Apartments
Terrace Homes
Townhouses
Dental & Medical Surgery
Beach Houses
Lake View Houses
Luxury Houses
Custom Homes
Multi-unit Development
Aged Care Centers
Child Care Centers
BOUTIQUE APARTMENTS DESIGN
VAASTU is a small to medium scale boutique apartments designer company. The core criteria for good apartment interior design is well considered internal planning and providing all the functionality and liveability of a house, albeit within a smaller space. It is crucial that every nook and square meter of floor space be utilised, but without cramming. We aim to maximise the potential of the site and focus on getting the best approval for our client.
View Boutique Apartment Design Projects >
TERRACE HOMES DESIGN
Terrace home development is a good alternative development solution to boutique apartment development in the current residential development market. it's the balanced residential product for developers who are looking to maximise the potential of their site in inner city suburbs and doesn't prefer boutique apartment developments in the current market. It's low maintenance, inner city suburb's residential home solution for young professional's and family who want to live closer to work and the city. At Vaastu, we focus on more efficient use of space and functional layout in each Terrace home development we design.
View Terrace Homes Design Projects >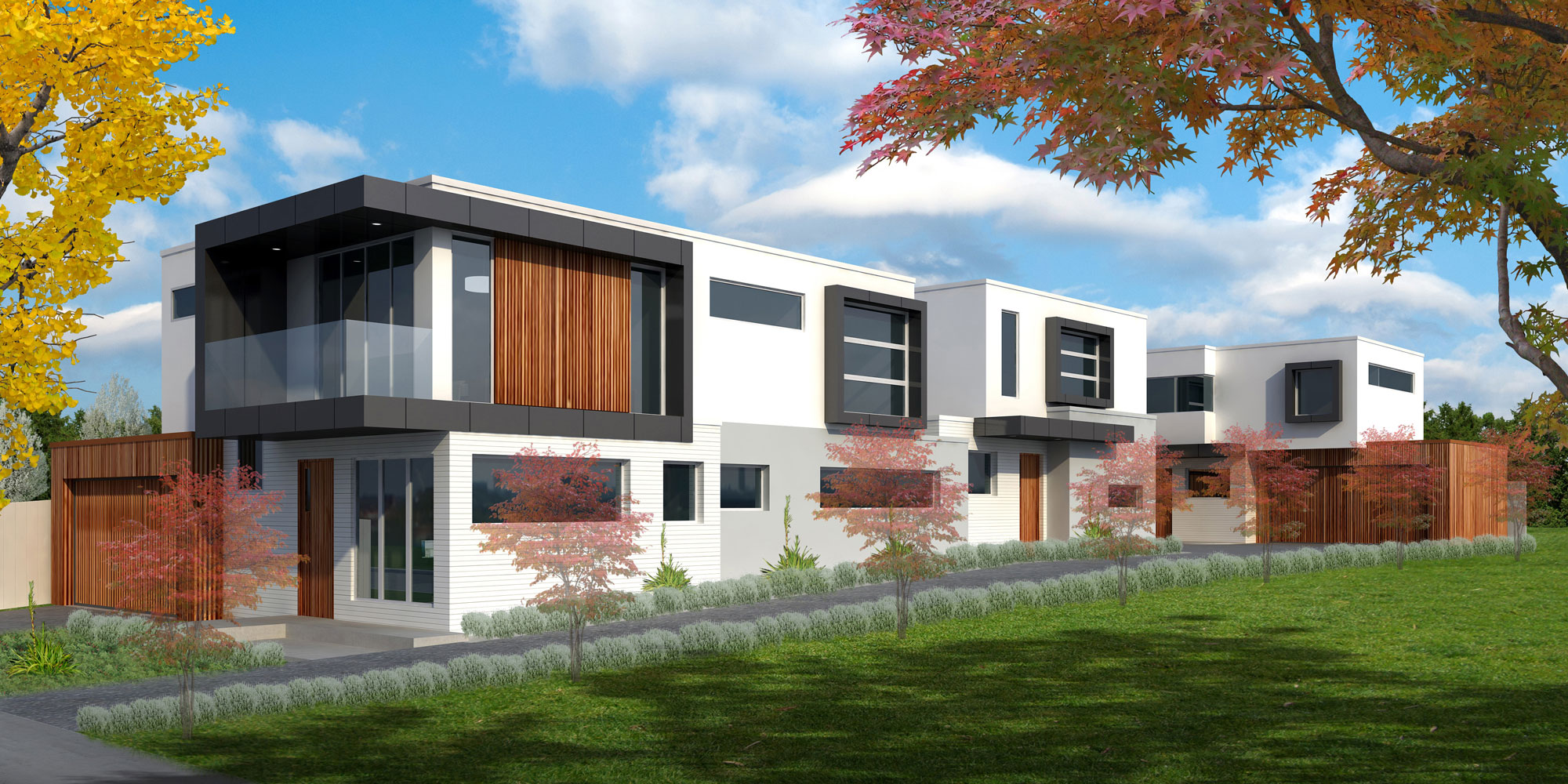 TOWNHOUSES DESIGN
We curate innovative concepts and aesthetic luxury townhouses design solutions. We have considerable experience in helping developers maximize blocks of all shapes and sizes. Our townhouse developments are designed and developed with paramount efficiency and offer amazing living spaces. We prepare the best townhouse designs that reflect unique ideas in every minute detail of our project. Achieving durability, utility and beauty and a focus on convenience and comfort allow us to create captivating townhouse designs for our clients.
View Town Houses Design Projects >
DUAL OCCUPANCY
There are 3 types of dual occupancy developments that are prevalent in Melbourne.
1. Two Townhouses one facing the street and other at the rear.
2. Two side by side townhouses facing the street.
3. Two independent townhouses on a corner block both having street frontages.

Feel free to contact us to know which option is best suited for your site. We aim at designing dual occupancies that efficiently utilise space, maximise the use of site area and aesthetic street frontages which provide equal accessibility to each unit providing outdoor space in a densely built area. We help the developers in getting permits of approval for the site as well as help in completion of construction. Whether you have a corner or non-corner site, a large block or just a backyard, we will maximize the potential of your land. We help our customers to get the best floor plan to suit their block combined with council restrictions that may affect your land. We provide a good range of designs and support to developers at each stage of construction.
View Dual Occupancy Projects >
CUSTOM LUXURY HOME DESIGN
"Luxury homes are the best way to combine size & style. Our luxury homes cover everything from contemporary to traditional floor plans and offer plenty of space and extra detailed styling. A luxury home curated as per your dreams and our vision will guarantee to fulfil your dreams and make each penny spent on it worth it. We work with our clients from the initial consultation all the way through completion and satisfaction. With customisation as per our client's needs, we craft projects to perfection. Through passion, collaboration, and a relentless pursuit of perfection we ensure every home we work on is a luxurious one.
FRENCH PROVINCIAL HOME
French Provincial homes have a casually elegant vibe associated with them. The symmetrically balanced proportions, steep roofs and porches with substantial balustrades make them unique. These designs are popular today because they are chic and minimal yet classic. From high pitched roofs and massive doors to clinker brick chimneys, windows are often plain and yet the design is all about simplicity & understatement. We have expertise in designing French provincial homes. We have developed several homes around Melbourne. Take a look at our portfolio to get better insights.
View French Provincial Homes Projects >
CONTEMPORARY DESIGN
Contemporary designs reflect modern Building Design. It refers to the present day building style. Contemporary design projects lay stress on the fact that the material used is as important as designs. With the advancement of time, contemporary changes its definition; what's modern today may not be modern tomorrow. But at Vaastu Pty Ltd we ensure and guarantee our clients that every project is unique and the designs are prepared to sustain till eternity. Building Design is all about eternity and we ensure you to see this trait in every project that we work on.Cotemporary homes are best suited to soak up any panoramic views. Beach house, Ocean house, Mountain view house, river view house, and Lakeview house are just few types to name in this category. Vaastu has an exclusive edge in designing this style of homes. Contemporary-Modern design is characterized by clean, simple lines, a minimum of decoration, lots of glass, and flat or shed rooflines. We understand the design and build process and will create together with you a design solution for any complex site.
View Contemporary Homes Projects >
COMMERCIAL DEVELOPMENT: CHILDCARE CENTRE, MEDICAL CENTRE & AGED CARE
We are experienced in designing medium to large scale commercial developments. For the last 10 years, we have designed a wide range of commercial developments from childcare centres, medical centres to aged care homes. Whether you are looking for new designs or just renovation of an existing project, Vaastu Pty Ltd helps you to achieve what you've desired your place to be like. Our focus is to maximise the potential of the development to achieve maximum yield for our client. We are committed wholeheartedly to every project that we work on and yield breathtaking projects.
CHILDCARE DESIGN
At Vaastu Pty Ltd we ensure that Childcare homes should be designed keeping the playful & lively nature of children. The designs are curated to ensure that the children feel safe and comfortable and get a good homely vibe. While preschools, long day care centres, kindergartens and childcare centres are in much demand and a growth area in Australia, we understand that the development of a Childcare Centre must be assessed against the physical suitability of the chosen site, local Council objectives and the strict requirements of the Child Services Regulations to determine its feasibility. We have developed a good number of childcare projects in Melbourne and have a fair idea of the legalities. With every project that we have developed, we have learnt something and we always try to implement everything that our client demands for and at the same time we also ensure to maximise the profit of the site.
View Childcare & Medical Centre >
MEDICAL CENTRE DESIGN
Medical Centres should be designed keeping vital aspects in mind.At Vaastu, while designing any Medical centres, Dental surgeries, specialist suites, we focus on functionality & accessibility to meet the needs of doctors as well as patients. We keep in mind the needs and requirements of doctors and design interiors as per the suitability of both doctors & patients. At Vaastu Pty Ltd, we go above and beyond typical requirements with each building embodying a unique concept crafted with consideration to its urban context, site surroundings, project brief and budget, and neighbourhood demographics.We analyze in detail the experience in each area for all end users, so that areas are designed to provide efficient functionality in welcoming, relaxing spaces.
View Medical Centre Design Projects >
TOWN PLANNING PERMIT
We have expertise in designing and providing town planning permit approvals for boutique apartments, high-end luxury houses, Childcare and Medical centres, Aged care homes, townhouse development projects and other mixed commercial developments. Our experience enables us to push the design envelope and obtain planning permits under the best possible conditions for our clients.

Our work typically includes:
01. Consultation with Client
02. Prepare Brief as necessary
03. Review and amend Brief as necessary
04. Consultation with Authorities
05. Site Master Planning / Analysis (Site Analysis and Design)
06. Consultation with local authorities and organize a pre-application meeting if required
07. Building Design Services, including co-ordinating and integrating preliminary Consultants' (Land surveyor, Town planner) information & Services
08. The development and expansion of Building Design schematic design drawings & documents
09. Site plan
10. Floor plans
11. Area analysis
12. Roof plan
13. 4 Elevations
14. Section through the site
15. Shadow diagrams as per council requirement
16. Site & Neighbourhood photos
17. Town Planning Report (Prepared by Town Planner) – Vaastu to co-ordinate, liaise and have meetings with Town Planner
18. Landscape plan (Prepared by Landscape designer) – Vaastu to co-ordinate and liaise with Landscape designer
19. Evaluate the requirement of energy assessment.
20. Preliminary selection of finishes – Exterior & Interior
21. Preparation of Finishes Schedules
22. Presentations to Client and / or Nominees
23. Preparation of Town Planning Application documents and Application in conjunction with Town planner & other consultants as per the Council requirements.
24. Liaise with Town planner on the progress of the application
25. Responding to council's queries and answer request for further information
26. Amendment to submitted drawings as per council requirements
27. Production of endorsement drawings

Town Planning Permit >
BUILDING PERMIT DRAWINGS OR WORKING DRAWINGS
Working Drawings is required as part of the Building Permit submission and to provide to the Builder to quote and to assist him with building the project. A good set of Building Permit drawings is essential in minimising on-site costs and time blowouts. At Vaastu, we prepare the detailed set of Building Design drawing set as per client's requirements
Our work typically includes:
01. Liaise with Client
02. The development and expansion of Building Design schematic design drawings & documents
03. Evaluate the requirement of energy assessment
04. Selection of final finishes – Exterior & Interior
05. Preparation of Finishes, Fittings, Fixtures schedules
06. Building Design Documentation consisting of the preparation of documents setting forth in detail the Building Design construction requirements
07. Preparation of Project Specifications
08. Presentations to Client
09. The development and expansion of building permit drawings & documents
A. Existing site plan&Proposed site plan
B. Site Plan showing title boundaries, dimensions and bearings, existing site levels, proposed site cuts, proposed floor levels, location of retaining walls, downpipes, rainwater heads, set out
C. dimensions, north point, legal point of discharge.
D. Set-out and Partition plans – Dimensioned floor plan(s) showing floor levels, location of smoke alarms, exhaust fans, door dimensions, window dimensions, stair risers, room names, bulkheads,
E. raked ceilings, fittings, fixtures and joinery items.
F. Detailed Floor plans
G. Detailed Roof plan
H. Detailed Elevations – Elevations showing all elevations of the proposal, floor levels, proposed and existing ground lines, window and door set out and locations, eaves overhang information,
I. external materials and finishes.
J. Sections through the sitesections showing room names, ceiling heights, proposed levels, major construction elements, notes referring to engineer' work and building regulations, highlight of
K. potential problem areas for Builder, highlight of how rooms with lower ceilings comply with building regulations.
L. Reflected ceiling plans (electrical plans)
M. Door window schedule
N. Kitchen plan and Elevations
O. Ensuite, Bathrooms, Laundry & Powder room plans and Elevations
P. Joinery Details
Q. Lift and/or stair drawings
R. External and Internal Materials/Colour/Finishes selection and specification
S. Internal fittings and fixtures schedule
T. Consultation and co-ordinate Consultants requirements such as Structural, Civil, ESD etc.
U. Structural Engineering drawings (Prepared by Structural consultant) – Vaastu to co-ordinate with Structural Engineer
V. Civil Engineering drawings (Prepared by Civil consultant) – Vaastu to co-ordinate, liaise with Civil Engineer
W. Energy rating assessment (Prepared by ESD consultant) – Vaastu to co-ordinate and liaise with ESD Consultants
X. Geotechnical Report (Soil Report) (Prepared by Geotech Consultant)  
10. Preparation of Building Permit (Working drawings) & documents and lodgement with Builder for Building Permit
Co-ordinate and liaise with builder for building permit submission

Building Permit Drawings >
DRAFTING SERVICES
Vaastu is one of the most trusted and respected local drafting companies in the Eastern & South Eastern suburbs of Melbourne. We have been specialising in Building Design drafting services for all sorts of development projects. Based in Burwood, our affordable prices will be combined with efficient services if you engage with us for drafting Building Design documents of projects. We have experienced in dealing with all Melbourne and regional Victorian Councils, with expert knowledge in local Codes and the BCA. We understand that designing projects is a critical aspect and the final outcome of construction is wholly based on the designs and therefore we ensure the best drafting services and innovative project management. We are approachable and responsive and work up to customer satisfaction.
Drafting Services >